First impression of Hysolar hydrogen filling station
22 April 2020
In 2021 we will start providing green hydrogen for sustainable transport – this is the goal Hysolar has set for itself. The hydrogen refueling station in Nieuwegein will supply hydrogen at a pressure of 350 bar for lorries and busses, and 700 bar for passenger cars . A request was recently submitted for a permit for a hydrogen filling station at the site of the contracting company, Jos Scholman Aannemersbedrijf, in Nieuwegein. Until the end of the year we will continue our provisional use of the filling station located at KWR's site, 1 km up the road.
Since mid-2019, Hysolar's partners (Allied Waters, KWR and Jos Scholman) have been using hydrogen to power passenger cars, which now number almost twenty: Toyota Mirai's and Hyundai Nexo's, the two models currently available on the Dutch market. In addition Nieuwegein will soon have tractors that will be powered by hydrogen.
Hydrogen refueling station Nieuwegein
The building of the filling station constitutes the first phase of a more comprehensive project, involving the local production of green hydrogen. The production is planned to begin over the course of 2021.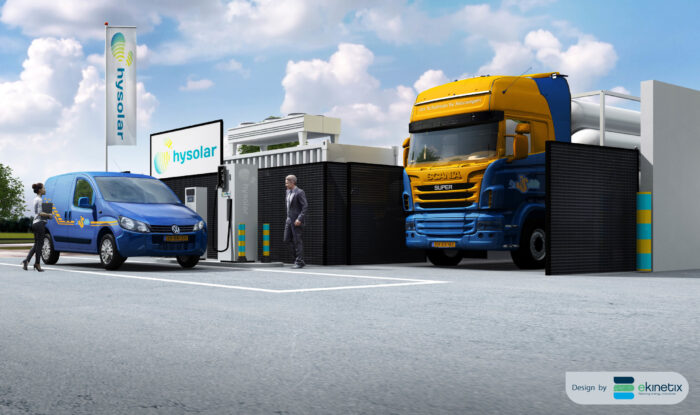 Filling station: first impression
Hysolar is being assisted in the preparations and engineering by engineering consultancy Ekinetix. 'Producing a visualisation after we've done an in-depth exploration is always an exciting moment in the preparatory phase,' says Jaco Reijerkerk, Director of Ekinetix. 'The impressions show the filling station itself, as well as the storage in so-called 'tube trailers'. We are very happy to be working on this unique and forward-thinking project.' At the end of December, the Ministry of Infrastructure and Water Management approved a so-called 'DKTI subsidy' for the project, in part because of its strongly innovative character.